Christian Develter's latest work is on display in the Aviary Hotel this February.
The Aviary is featuring Develter's timeless pieces from his Chin Urban & Tribal series all over the hotel. This series is a beautiful blend of modern art and ancient Burmese traditions, which goes perfectly with our urban jungle design.
Develter was born in 1968 in Blankenberge, Belgium, and made his way to Asia in the mid 1990's. He made a home base for himself in Bangkok, Thailand, where he began to learn more and more about the different cultures in Asia, and drew inspiration from the special moments we all share, regardless of social and cultural differences.
The Chin Urban & Tribal Series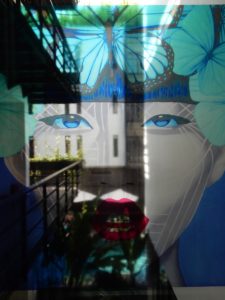 Christian's latest series is inspired by the ancient traditions of the Chin and Rakhine states of northwestern Myanmar. During his travels in 2012, Develter saw the complex tattooed faces of the Chin women.
The century old tradition of tattooing in these regions is used to indicate social and marital status, and differentiate between tribes. The original tattoos are done using thorns as a needle, and the ink is a mixture of locally-sourced natural products. Legend says, that these were initially done on the Chin women to prevent Kings from stealing them as wives. Today, these works of art are seen as a symbol of beauty & strength, and are often represented through the Plant and Animal Kingdom.
This painful yet stunning art form has been forbidden by the government for years, but in the depths of the Burmese jungle, you can still find young women voluntarily getting their faces tattooed because of its' significance to the tribe and the girls themselves. These ancient traditions are still prominent among Chin women today, but with the opening of Myanmar's borders and current laws, these young women may soon be the last to represent their kind.  
Christian Develter's modern style and unique use of linework and geometry, paired with the elaborate tattoos of the Chin women comes together to create a timeless series of captivating potraits.
"Develter's critically well-received 'Chin Urban & Tribal' is an invitation to explore the artist's contemporary narrative of evolving cultures." – Christian Develter, www.christiandevelter.com
Where to find Develter's pieces
For the month of February only, you will be able to see this beautiful collection on display throughout the hotel in central Siem Reap, and purchase the lithographs that are in the lobby.
Develter's work is also available at the WA Gallery Concept Store in Siem Reap.