Ringing in the New Year right with Eric Raisina's beautifully kaleidoscopic pieces decorating the Aviary Lobby this month.
The Aviary Hotel is so excited to announce that for the very first month of 2017, Eric Raisina's magnificent pieces will be on display in our lobby. Eric Raisina is a Fashion Designer from Madagascar with years of experience in the Fashion Industry worldwide. We could not be more excited to be showing the work of such a highly-regarded designer at our hotel.
Background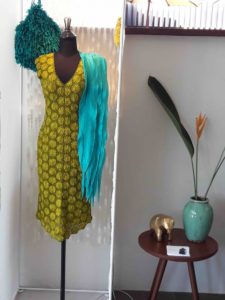 Eric was born in Madagascar, raised in France, and now resides in Cambodia. His talent has brought him so amazing opportunities and successes, all while maintaining a unique and precise style. In his earlier days, Eric made a colourful entrance into the fashion world by winning "New Young Designer of the Year" at the Fashion Festival and Textile Competition in Madagascar. This huge success earned him a scholarship at The Duperré School of Applied Arts in Paris, France, where he studied Textile and Fashion. He then went on to attain his Master's Degree in Textile and Fashion at the Institute Français de la Mode.
Eric's naturistic approach to design & fashion is what sets him apart from other designers, and this unique talent has caught the eye of some pretty famous names in fashion. Eric has had the opportunity to create fabrics for the iconic fashion brand Yves Saint-Laurent, and work with the world-renowned fashion house, Christian Lacroix.
Where to find him
For the month of January only, you will be able to find a selection of Eric Raisina's work in our lobby. If you would like to purchase one of the items on display, you can visit his boutique at FCC Angkor, or his Couture House in Charming City. Eric also has a store in Phnom Penh, and another one located in Paris, France.