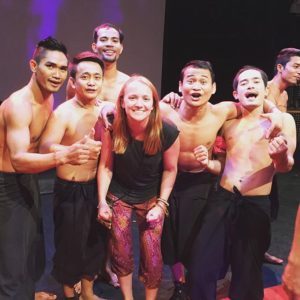 Imagine a big top where the stories of the past and future are told and brought to life with music, excitement, drama and humor; were circus performers do stunts, perform tricks and skills that are mesmerizing, and leave you glued to your seat waiting in anticipation of the next act. This is the magic of Phare, the Cambodian Circus – authentic, unique and Siem Reap's top rated evening entertainment that shouldn't be missed. But as complex and layered as the Cambodian culture, so is the story of Phare Circus.
The circus itself is a project run by an NGO named Phare Ponleu Selpak, meaning "The Brightness of the Arts." It was founded by 9 young refugees who, as children, were taught to draw and through self-expression, to use art as means of recovery from the trauma they had experienced during the genocide. Many years later upon returning to Cambodia, these 9 young men wanted to empower other vulnerable children through art, the same way they were taught in the refugee camps the years before. Now, the circus is one of Phare Ponleu Selpak's key projects, which gives students the chance to perform, tell their stories, and make a living through circus.
Phare, The Cambodian Circus is a fun evening out filled with laughter and high energy. All performers spend years and years in training at Phare Ponleu Selpak, perfecting every move, expression and circus skill. On top of laughter, the circus has some impressive stunts, live music and thrill in abundance. Visitors get to see somersaults, juggling, and many more acrobats, leading a perfect example in unpolished, passionate storytelling!
When in Siem Reap, simply book a ticket through us at The Aviary Hotel. Otherwise, book directly on their website. Visitors can also purchase tickets on site, but in high season (November to April) it's highly recommended you book in advance. So get your tickets, step right up and witness the amazing vibe and energy!