Makara Tith – Sales Manager.
The Aviary Hotel takes pride in our teamwork skills & sense of community in the workplace. Like any good business, each and every one of our team members understands their role & how they all play equally important parts in ensuring our guests feel comfortable and at home in our hotel.
We've been lucky at the Aviary in finding ambitious, hardworking, and friendly staff. Makara Tith, our Sales Manager who joined us in October of 2015, is a prime example.
Her Journey
Makara has an extensive background working in management for hotels like the Aviary. Born and raised in Battambang, Makara graduated from her high school and moved to Siem Reap in 2003 to pursue a career in the hospitality industry.
Her first job in Siem Reap was as at the Angkor Palace Resort & Spa, as a telephone operator, hoping to work her way up in the company. After six months of answering & transferring calls, demanding more hours, and dedicating all of her attention to the job, Makara was promoted.
Now working in the business center, she took care of one of the resort's outlets – handling guest wifi, etc. A step in the right direction, this promotion was exciting news for Makara, but her ambitions only began to grow stronger.
Another six months of hard work went by, and Makara was promoted once again. This time to front-desk receptionist where her job was to greet and welcome guests, and handle check-ins and check-outs. Proving herself to be an extremely keen and fast-learning employee, Makara only lasted a year at the front desk before being promoted to Reservation Clerk. As she continues to explore the field of hospitality, Makara was finding herself more and more motivated, interested, and extremely satisfied with her career path. After an entire year as Reservation Clerk, Makara worked her final six months at the Angkor Palace Resort & Spa as the Reservations Supervisor.
Following years of hard work, and consequently great success; it was time for Makara to take a well deserved break to focus on herself and her family. So, back to Battambang she went for around a year; resting up, taking care of her family and newborn daughter, and simply enjoying the great life she had already set out for herself.
Eager to get back to work, and looking for a change of scenery she moved to Phnom Penh to accept the position of Reservations & Sales Manager at Knai Bang Chatt Resort's head offices.
This was really the beginning of Makara's career, as she realized that this was the job for her. "I remember being at my first hotel job, dreaming of having a position like this… And there I was, living my dream."
Regardless of her great successes and achievements, these years proved to be problematic for a new single mother in Phnom Penh. Makara has always been the type of girl to put family first, and always wanted to provide the best life she can for her daughter. She wasn't going to let the difficulties of her situation stop her. She had goals, and they were going to be reached.
In the early years of Makara's new daughter's life, Makara was forced to continue working full-time while her daughter stayed home, being looked after by Makara's family. As her daughter got older, Makara worked tirelessly to make sure she got her to school everyday, while working full-time, and even traveling to Kep from time to time for work.
Soaring in Siem Reap
Six years later, in 2015, Makara returned to Siem Reap to accept the position as Sales Manager for the Aviary Hotel. Her passion for hospitality & tourism, and great style is what drew her to the Aviary. The central location is perfect for a busy woman like Makara, and being so close to the Temples of Angkor is great for anyone – especially a hotel manager! Being a stylish mother & businesswoman, Makara also emphasises that she loves the modern urban design of the hotel.
"I enjoy speaking with my guests and staff, and making everyone feel at home. Having a moderately-sized hotel in the city-center makes this much easier for me. It allows me to build strong relationships with my colleagues, as well as create a cozy getaway for our guests."
By the time we got around to asking her favourite part of the job, we already had a pretty clear idea of what her answer would be. Makara's favourite part of the job is in fact, all of you guys! She has always considered herself a people person, and thrives in these environments.
Makara enjoys hearing about everyone's travels within Cambodia, all while taking mental notes on what they liked & didn't like. These fun & warming interactions are a simple pleasure of Makara's, but they also relate back to her work!
Daily Life
Outside of work, Makara is a full-time wife, and mother of children & dogs! Makara and her family enjoy spending time together in the outdoors with the pups; visiting countryside spots like Phnom Kulen and West Baray. "I think that family and work are some of the most important things in life; so I've managed to maintain a healthy balance of the two, and I think our guests can feel that."
At the Aviary Hotel, we've hosted a variety of events that are open to guests, residents, and expats alike. Some events better than others, we wanted to see which event resonated with Makara the most. "The Shelter exhibition with Channy has to be my most memorable evening at the Aviary. The reason it was such a big success for me, is that so many different people were able to come and enjoy it. We had a large amount of our guests join in, as well as huge amounts of expats and residents visit the hotel for the exhibition."
As our final questions, we asked Makara if she had any goals or ambitions for herself and the hotel, and to recommend some of her favourite "off the beaten path" things to do in Cambodia. First off, Makara's personal goals are to continue to learn & grow, and be a successful Sales Manager, and in turn make the hotel famous for what it is. As her career continues to grow, her ambitions are doing the same. Makara's new goals include working her way up the ladder, to Director of Sales, where her positivity & motivation can help the hotel on a larger scale. She also mentioned that they do have plans to extend the hotel to add some more rooms, but no start-date in mind just yet.
An Insight into Cambodia's "Hidden" Gems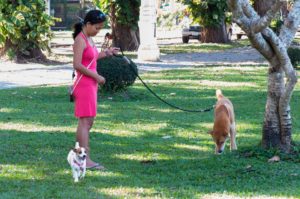 Being a well-traveled local woman, Makara's "off the beaten path" recommendations really are one of a kind!
"For the guests that have a longer-than-average stay in Cambodia, I would recommend visiting other beautiful cities such as Battambang, Phnom Yat in Pailin, Steung Treng Province, and Mondulkiri."
Battambang is truly a unique place in Cambodia, with the culture & religion still so prominent; it's a nice place for visitors who are looking for a quieter getaway, but don't want to miss out on all the beautiful sights of a Cambodian countryside.
Phnom Yat is a region in Pailin, and it is a great place for a family vacation, with many beautiful walking trails & pagodas sprawled across its beautiful mountainous terrain.
Makara highly recommends going dolphin watching off the coast of Steung Treng. This is a great animal sight-seeing alternative to riding elephants – something Makara strongly discourages.
Last but not least, Makara highly recommends visiting the Eastern province of Mondulkiri. Mondulkiri is widely-known for its elephant sanctuaries & animal rescue projects, but this province offers a lot more than elephants when it comes to nature's wonderful creations.
The Bou Sra Waterfall is an astonishing waterfall with a delightful walk through the forest leading up to it. Perfect for an excursion with the family, or a day trip with some friends!
Another "undiscovered" spot recommended by Makara is the Sea Forest. The Sea Forest is a mountain-top lookout spot, overlooking a seemingly never-ending wavy mountain range – hence the name: Sea Forest. Enjoy a beautiful hike up to the lookout, where you can find local families & a rare tourist or two enjoying the view.
Now that you've gotten to know our Sales Manager Makara, don't be shy to say hello when you see her at the hotel – she just might be able to give you some travel tips, too!